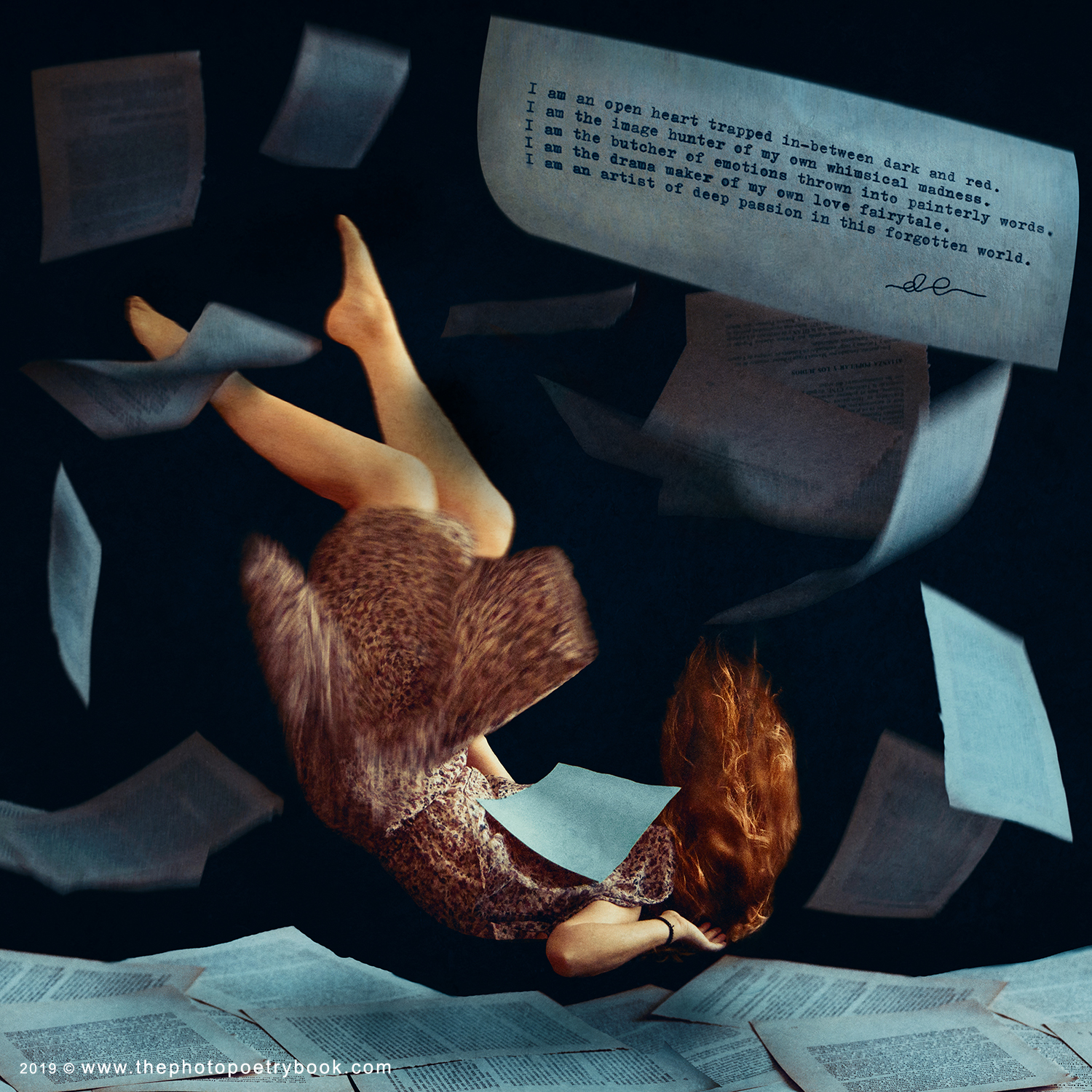 "your happiness lies in your ability to be brutally sincere with yourself
your power to love lies in your capacity to be honest and open up your soul completely"
– The Photo Poetry Book – a year of 366 days of poetry captured in photographs
Photopoetry is a fusion of fine art photography and poetry. I present my art in a beautiful combination of written poetry on a piece of paper, captured in photographs.
As an artist, I started exploring the world and my emotional state, creating a new way of art form. Seeking for a purpose in my life, and trying to understand the meaning of my life, I wanted to create a balance between poetry and photography. I was searching for a creative expression that can better reveal my emotional state. Photopoetry is written poetry, depicted in a magical abstract conceptual world.
My passion for photography started since I was a child. I was fascinated by my grandparent's photographs, hanging on the wall. Through a child's eyes, I could never understand how a moment from time, can be captured on a piece of paper. I found the joy in writing short essays when I was around 10 years old, and a few years later I started writing poetry. I was 22 years old when I stopped writing.
In 2016 I started a personal 366 days challenge, creating each day photopoetry. What started as an experiment and a challenge, became a personal project of deep love, a reflection of life and death, purpose, and loss. A path to resilience. A journey of understanding:
When you lose a loved one, where does all the love go?
There are many photographs I love, but I have to admit that this is one of my soul photographs. These are my lovely grandparents. The people who raised me, who guide me in my life, who love me.
I have never imagined that this photograph will gain so much power in my life. Now, when they live only in my heart, this image represents my world, one great love, the image of happiness.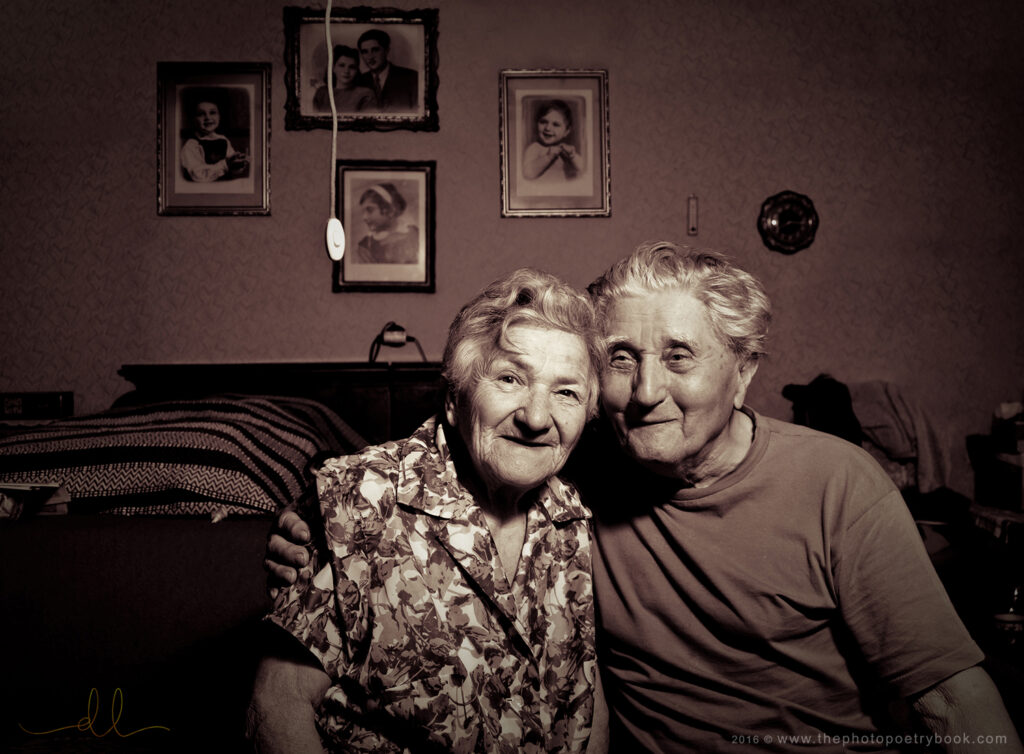 "your happiness lies in your ability to be brutally sincere with yourself
your power to love lies in your capacity to be honest and open up your soul completely"
– The Photo Poetry Book – a year of 366 days of poetry captured in photographs
Losing my Grandfather left me with only one thought, towards my Grandmother. After 67 years of marriage, she was
repeating to me, over and over again:
"No worries, I'll be ok.
But it takes time.
So, don't worry."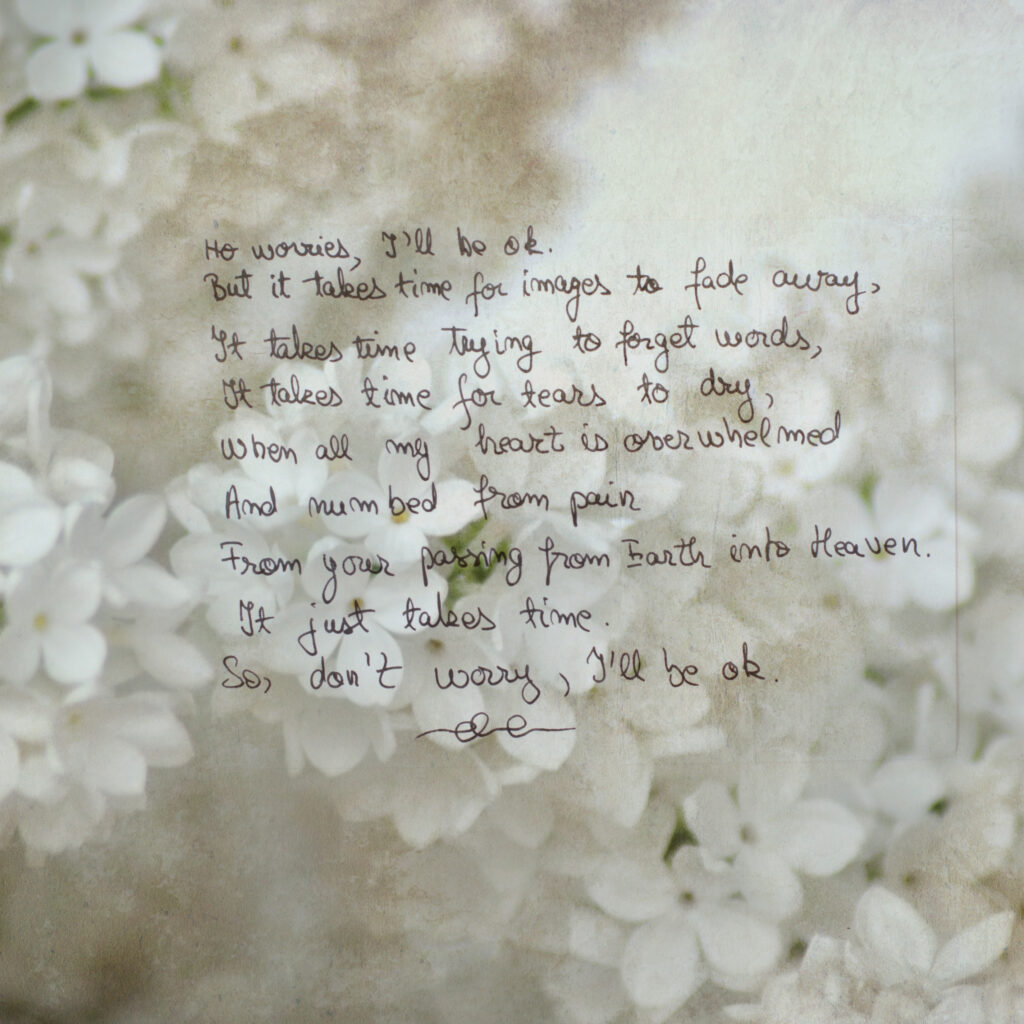 "Great love doesn't go away. Never. Great pain comes with it. Be prepared to live your life. Open up your soul completely, be brutally sincere with yourself, and LOVE."
The book The Photo Poetry Book is dedicated to my grandparents
There will come a time in everyone's life when we will question everything.
Losing a loved one, last year, felt like losing a part of me.
And I started to wonder…
What are the things that are stopping us to do what we love?
What are the things that are keeping us not live the life that we love?
Why we accept our blindness and not see everything that kills our dreams, and slowly ourselves?
It is time to let go. It is time to heal.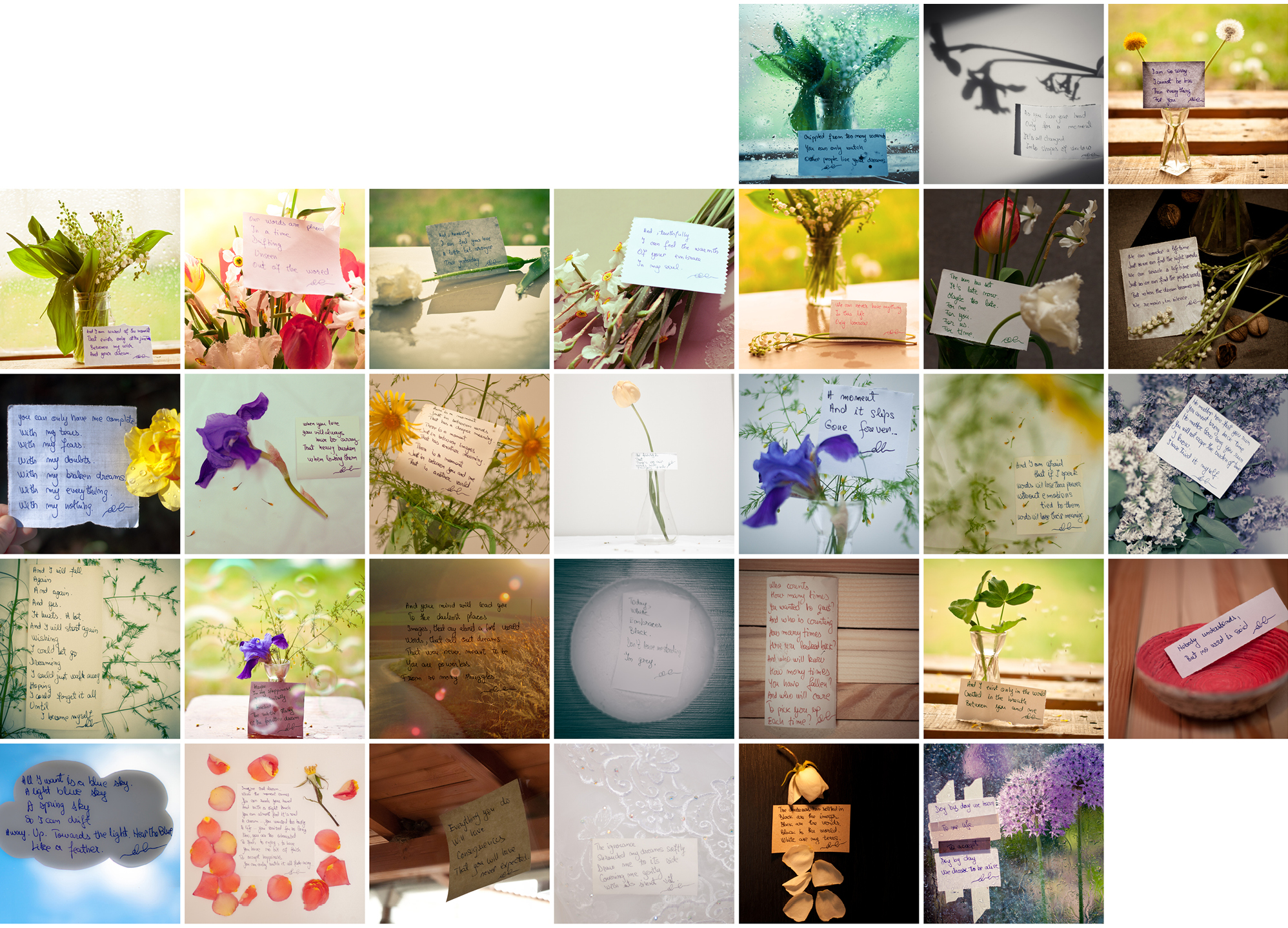 "Make up your mind!", I was always hearing. "You have to choose, it's either photography, either poetry! It can't be both!"
It was only after losing my dear Grandfather I started to really see life. After his death, I was drowning in a vast ocean of grief, as I suffered my share of hard losses, hateful words, and crushing isolation. A few months later I was going through a divorce, after 10 years of marriage. I have lost my job. I have lost my friends.
Life, as I knew it was gone. Myself, as I knew me, was gone. I was just trying to stop the pain for a little bit. And I didn't know how to pray for a miracle in my life. I couldn't make sense of it all.
I realized now, that was not the end, it was the beginning.
The following years were the darkest of my life, as I was standing hopeless, losing everyone and everything around me. My father, my Grandmother, my white little bunny, and with that, every member of my family drew apart from me. Because of the poverty and corruption in my country, I had to leave everything behind, my company, my car, my house, everything I own. Just so I can move on.
This is my story. This is my truth. This is my journey.
A project of deep love. A reflection on life and death, loss, and purpose. A journey to resilience.
I am creating photopoetry.
I want to share my work as much as possible, hoping it will encourage, motivate and inspire others to join me in my journey or to create photopoetry. I am hoping that my work will also bring others who have suffered or had their share of losses, a word of comfort, understanding or a little bit of peace of mind.
If you like my work, I will appreciate your support, you can Donate or you can send me nice words, or you can connect:
Instagram/thephotopoetrybook
Facebook/thephotopoetrybook
Youtube/thephotopoetrybook
If you like my work please make sure to sign up for the Newsletter.
If you want to read more, you can download the FREE e-book The Fine Art Photopoetry Manifesto here.
About The Book
About The Author
Daciana Lipai is a fine art photographer, writer, creator of photopoetry as a fusion of fine art photography and poetry, and the author of Fine Art Photopoetry Manifesto and The Photo Poetry Book.

Sincerely, from my heart,