What happens when fear sneaks into love? Did it ever happen to you? When there are unsaid words, it feels like a forever silence, and doubt makes way to take over.
~Between~ is a photopoetry from the OneYearPhotopoetryChallenge, on the list that I don't like. I really like the message and the concept but I think it is not well represented. I also like the poem, but the photograph doesn't draw the viewer to read the text. It is a love poem, about the fear of losing the person that you love, and confusion of what one feels, when fear and doubt take over the heart and sneaks into love.
This is one of my favorite poems. I have written it many years ago, in my native language, and now I have translated it. I love the feeling that it evokes. I feel the same way, after all these years, about the poem.
I love the poem, but I fear that the photograph doesn't represent it best.
What do we do when we feel our art is not perfect, or we don't like it? We will share it with the world or we will hide it? In this way maybe it will become just fear or just another creative block that will keep us from creating.
One important aspect of the 366PhotopoetryChallenge was to create each day, to get over the fear and doubts because so many times it is fear that runs our heart and mind. The purpose was not to make every single image perfect but to explore, to see what work and what doesn't, and to see the evolution, the development.
Who counts how many times did we fail? Who counts the unspoken words?
Who counts the well-hidden thoughts?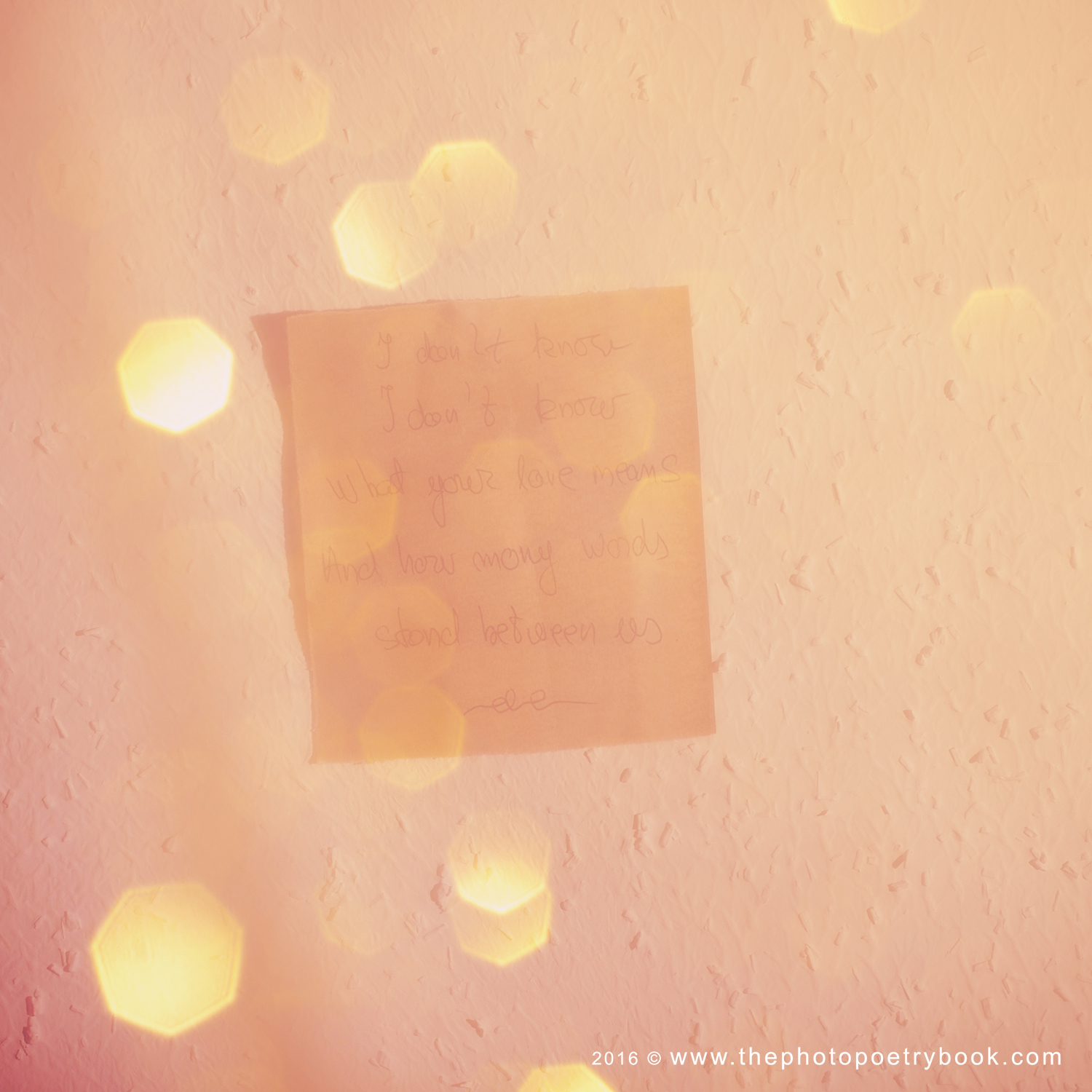 I don't know
I don't know
What your love means
And how many words.
stand between us
.          .          .
If you want to read more about the Photopoetry Project, you can download the FREE e-book The Fine Art Photopoetry Manifesto here.
A project of deep love. A reflection on life and death, loss, and purpose. A journey to resilience.
you can see more about the Photopoetry Project here:
I am hoping that my work will also bring others who have suffered or had their share of losses, a word of comfort, understanding or a little bit of peace of mind.