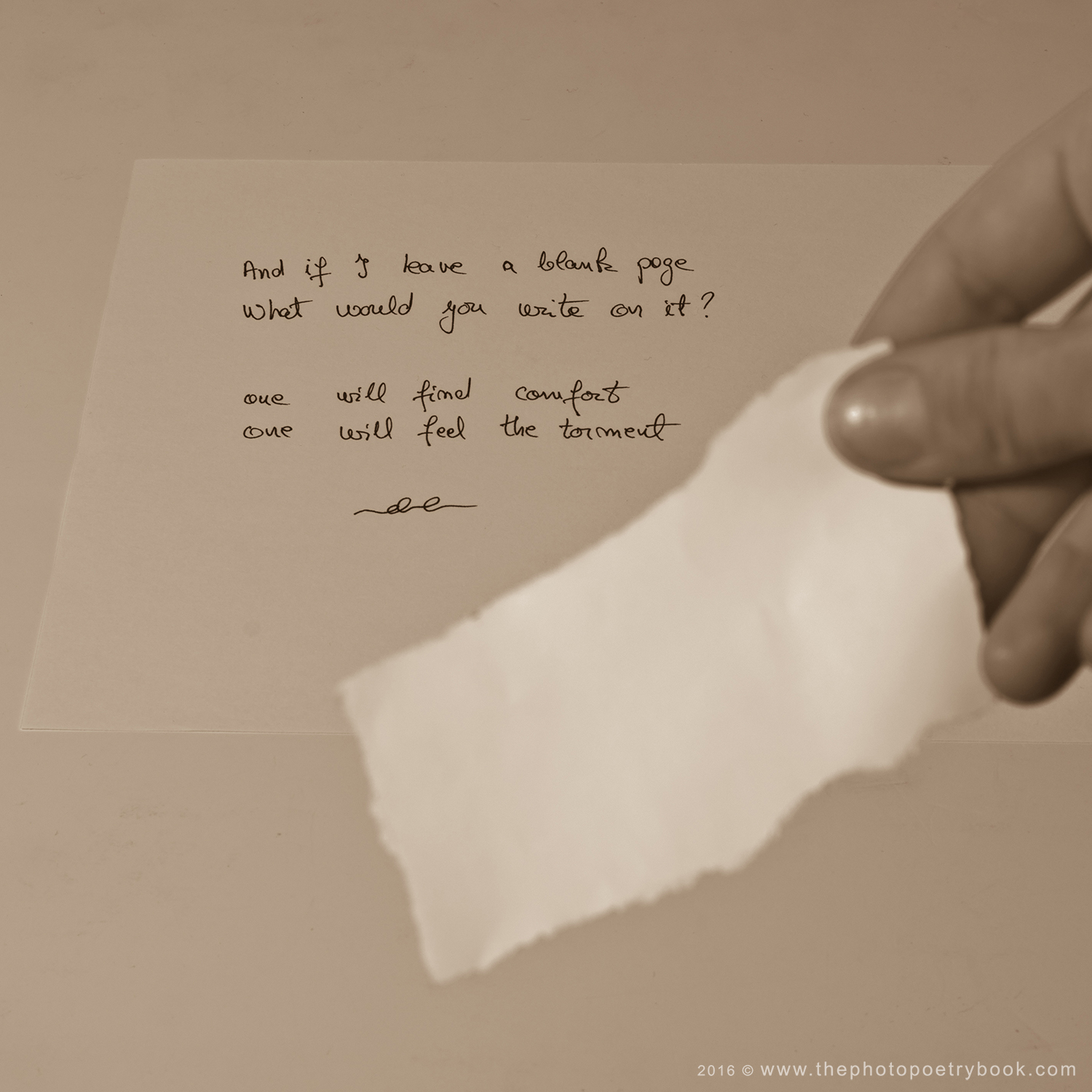 Choosing the photographs that you are most proud of can be a very difficult task. I sat and analyze my past work but I have realized I cannot choose a single image. Of course, I have lots of photographs made which I love, which I hate, or I have favorites and I have works that I am proud of.
But if I have to choose only one image that I am most proud of from the 366 Days of Photopoetry Challenge, I choose Day 358, because I really believe that our best work is yet to come.
And in spite of every little thing, that is stopping us each day to create, the most important thing is to continue our work and never to give up.
Often, I get stuck in the creative process and not create or finish the work. Life gets in the way, I think: doubt, fear, laziness, thoughts, time, money. There are so many things that can hold us back, from creating, from our true path, from ourselves.
So, I wonder, what inspires you the most to take action and create?
"And if I leave a blank page
What would you write on it?
One will find comfort
One will feel the torment"
If you want to read more, you can download the FREE e-book The Fine Art Photopoetry Manifesto here.
When you lose a loved one, where does all the love go?
After a dark time in my life, as I was standing hopeless, losing everyone and everything around me, in my mourning process, I begin my journey to find myself again. As an artist, I started exploring the world and my emotional state, creating a new way of art form. Seeking for a purpose in my life, and trying to understand the meaning of my life, I wanted to create a balance between poetry and photography. I was searching for a creative expression that can better reveal my emotional state. Photopoetry is written poetry, depicted in a magical abstract conceptual world.
What started as an experiment and a challenge, became a personal project of deep love, a reflection of life and death, purpose, and loss. A path to resilience. A journey of understanding:
A project of deep love. A reflection on life and death, loss, and purpose. A journey to resilience.
you can see more about the finish photopoetry projects here:
I am sure, I wouldn't be standing here now if it weren't for the words and stories of some wonderful people who decided to talk about their loss, mourning process, or depression.
I know how important it is to share your story, even if you think it's too painful, makes you too vulnerable and you think you are the only one feeling this way, and nobody cares about your story!
I am hoping that my work will also bring others who have suffered or had their share of losses, a word of comfort, understanding or a little bit of peace of mind.