My little studio space is filled up with herbs and plants to dry up for the winter.

In the previous posts, I was writing how, losing someone dear in the spring made me redraw in silence (you can read the post here) and how in the summer I started to spend more time in the garden, and in nature, to find myself again and find a peaceful place (you can read the post here).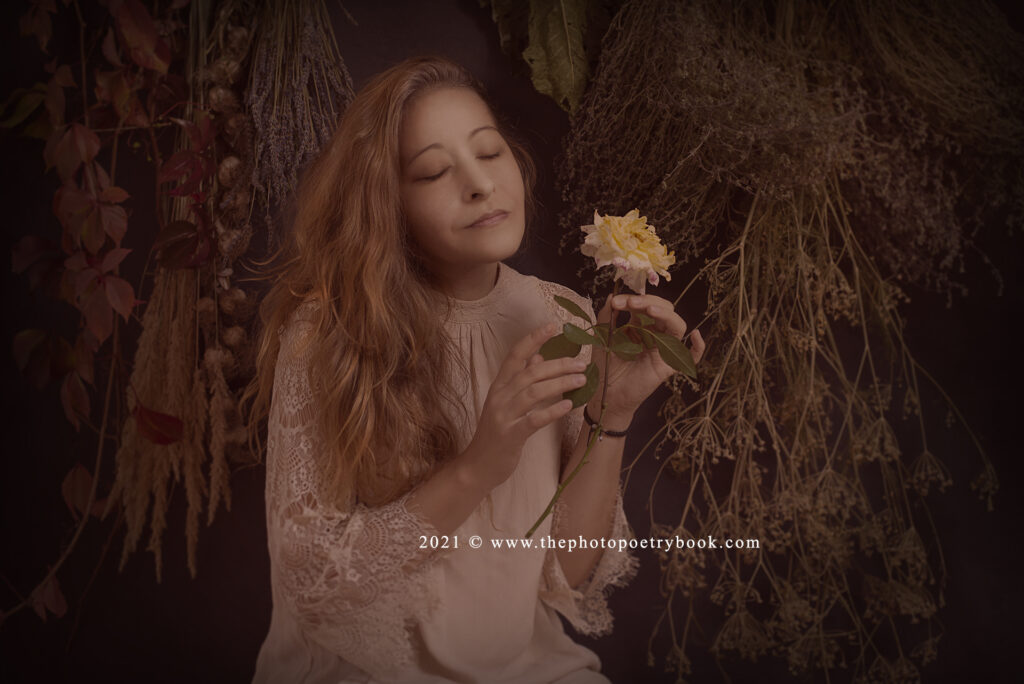 2021 © DACIANA LIPAI | When Words Become Thorns ~ D R E A M • A W A Y ~ Fine Art Photography Series
.                    .                    .
I love taking photographs and I love writing. Two things that I have been doing all my life.
Whenever I was feeling sad or lonely, I would secretly write poems. I am a very emotional person so I can be easily influenced by the world around me. I take in, like a sponge, every negative thought, sadness, or grief. I can't ignore it. This is who I am. A long time ago I've learned that expressing my emotion with a poem is a very powerful healing tool. It comes naturally, like something I have to do.
I also learned that healing great grief, either loss, sadness, loneliness, or fear, comes with acknowledgment, and expressing it. It is a way to let it out, to let it heal. Words heal. Stories heal, bringing a great deal of understanding other's stories and your story, as well.
There are different stages of grief. I think more, in the present days, everyone is hurting in some way and we are all in different stages of grief. We just have to understand this. My pain is not bigger or smaller than yours but is different. Just different.
Sometimes, we can't let go. We don't want to let it go. Maybe we are afraid. Maybe we are afraid we are going to forget.
Nowadays I find myself hesitating even more, before writing the truth down…
Today words have become thorns. My thorns or your thorns. This is why I prefer to listen to the silence. When someone is suffering, they will use words as thorns, for protection, but when someone feels threatened, he will use words as thorns. And we will find ourselves in a vicious cycle.
No matter how gently you want to touch the rose, the thorns will sting you. So, this means that we should hate the rose?!
No!
It just means sometimes we just have to smell the rose in complete silence, for a while.
Find our broken self beside the thorns.
Use words, soft and kindly, knowing that they could be thorns for others.
Until we will find each other again.
I've also learned that creating photographs can heal hearts. Now, for me, when words became thorns, it is a way that I can find myself again, from all the noise and sirens. It is a reminder that there is a place where I can be free of this broken world. Sometimes silence is better.
We just have to listen to the silent song of a rose, for a while.
Do you think that you can hurt someone with your words, unintentionally?
---
Feel free to share this with your art lover friends or with anyone who can use a nice word. Leave a comment or drop me a line. I would love to hear from you
---
What to learn more about the book "Turning Blak into Color – photopoems for the brokenhearted, the path of finding resilience after losing someone, dear and transforming the grief into happiness" you can read more here or you can purchase the book here.
---
Lots of love, Daciana