I feel that the world is more and more full of hate and violence when it should be more love and prayers. The days should be full of hope.
Prayer ~ D R E A M • A W A Y ~ Fine Art Photography Series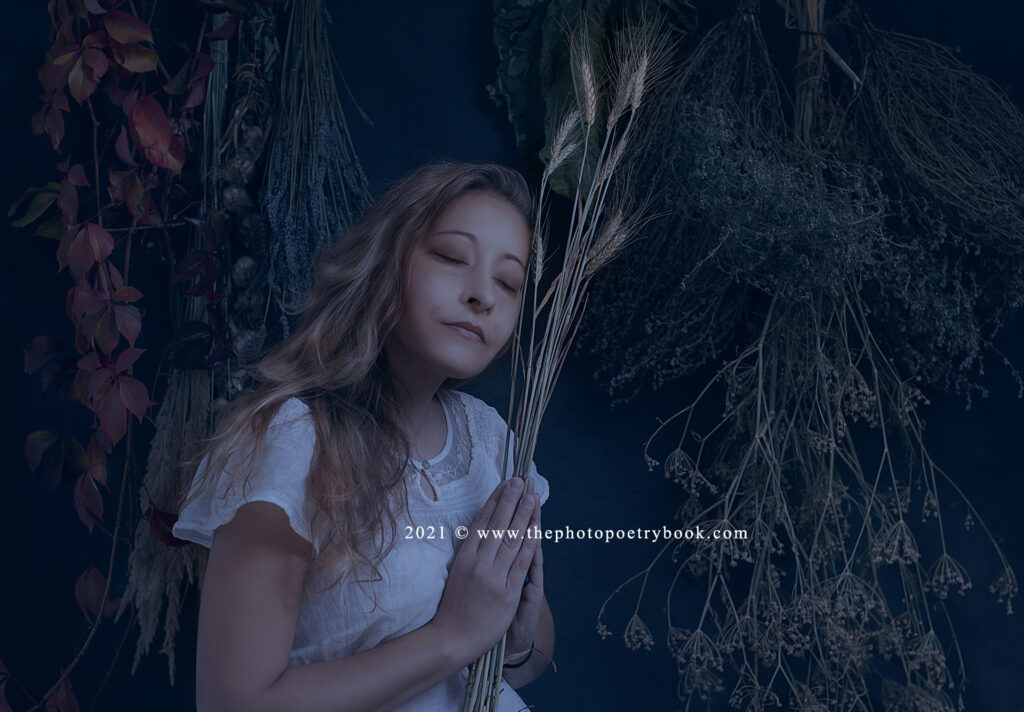 2021 © DACIANA LIPAI | Prayer ~ D R E A M • A W A Y ~ Fine Art Photography Series
.                    .                    .
I was writing last year in the Lens Magazine #66 March 2020 (you can fin the post here) "In the darkest and deepest oceans of grief, we will find our true essence". I feel that the article is still true and present (you can read the post here or you can check the online version of the article on the Lens Magazine website here if you missed it).
I received the bouquet of wheat at a great Romanian celebration. Whey is considered one of the most important elements from entire human history. It is considered to be the symbol of abundance because it feeds us, and it's a sacred symbol because the Holy Bread is made from it. It represents salvation. It is used in many rituals, as well for prediction. The wheat grain symbolizes life that overcomes death. In the past, my country was considered to be one of the richest countries in the world, because the terrain was filled, as the eyes can see, with endless goldfields of whey. Not long ago, it was the 2nd producer of whey in the world. When greedy people saw the richness, they wanted to take it for themselves. The blood of hundreds of martyrs was spilled on the whey fields, making it a sacred land.
I think it is because of indifference, ignorance, greed, fear, our hearts went ice cold, and can't feel empathy anymore, we forgot how to care for one another and do not know how to love anymore, so many lives are lost, broken and shatter. We are dying inside, forgotten, lonely, in isolation.
Tonight, my prayer in the night goes to all that are torn by grief, everyone I know, everyone I've met, everyone in need, to all the good in humanity. I pray that everyone will find a way out of this dark dark place we are now.
Tonight, my thoughts go to all that will live only in our prayers.

I remember my grandfather, who raised me, with the wisdom that encapsulates a life worth struggles, who fought in Russia in WWII and defended his country, and survived the communist oppression, he always told me:
– "You know, if I could have only one wish, only one, is to stop all wars and violence, on this planet. If I had one wish, it would be peace, forever."
What do you pray for?
---
Feel free to share this with your art lover friends or with anyone who can use a nice word. Leave a comment or drop me a line. I would love to hear from you
Interested in adding a fine art photopoem to your collection? You can check out more about my fine art prints here.
---
Lots of love, Daciana