Wouldn't be nice, if we could softly lose all of our fears, in the spring's soft breeze, just like the trees blossom petals?
It's so interesting how fear can be a constant in our life, in one or another form. I think we all wish we could shake it off, realize it is an illusion and we could choose so easily if we want to, to let the fear go.
During this lockdown, many of us lost our security and stability. When something we believe in is taken away, we become vulnerable. We will start to question everything in our life. All our brokenness from our lives, that we haven't confronted seems to be present now, rising to the surface and slowly taking over. We see everything through our fears.
So, what are your fears? What are you afraid of?
Our fear will define who we are, what we think, how we see the world, what we'll do.
If we want to escape our fears, first we have to know what they are. Write them down. We have to understand why we feel that way. Most of the time it's enough to make a plan, an action step, that we can follow each day. We have to detach emotionally so we can find a solution. Sometimes, it's induced fear, anxiety. The current situation, something happening in the present is triggering a memory from the past. The mind is simply trying to protect us from something that happened to us, so we don't get hurt again.
My greatest fear taking over my life now is that I won't be able to go home anymore or to see my loved ones. I left my home, coming to Spain to search for a better life, after I went through an ocean of grief, losing so much of my life and of myself. I thought I lost everything. I never considered that one could lose their freedom, safety, inner peace, or opinion. Never, until now, I had the doubt of reaching home.
So share with me, my dear friend, what fear did the current situation triggered in your life? Are they real? Are they exaggerated? Can you heal them easily? Are they related to something from the past? How are you overcoming them?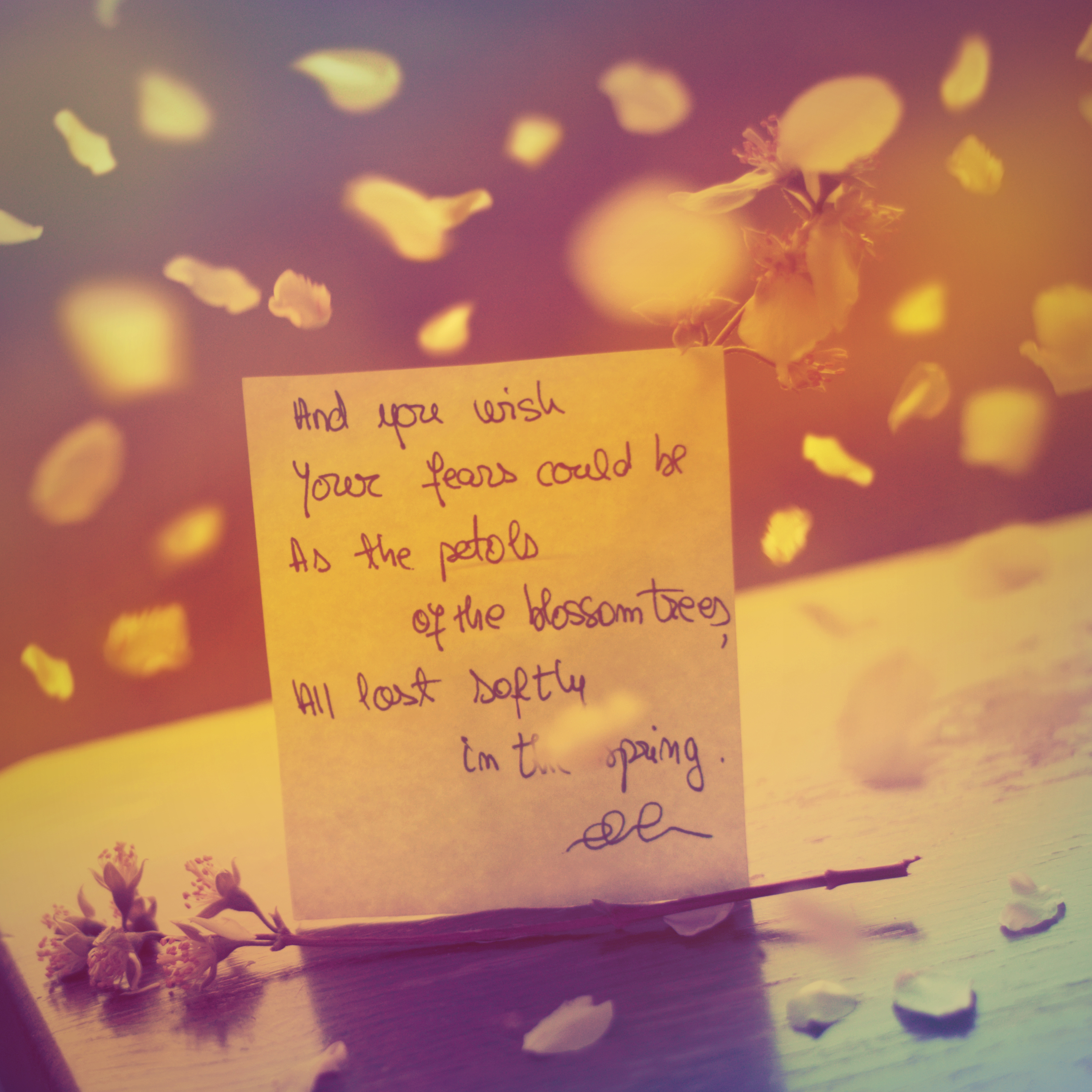 And you wish
Your fears could be
As the petals of the blossom trees,
All lost softly in the spring.
🌻
.                    .                    .
❤️ Check out my videos on the youtube channel and tell me what you think. In this video, I am talking about my creative process, I defined photopoetry and how I create.
.                    .                    .
Lots of love
Take care and stay safe!
Daciana