Fear is only the lack of love.
I often talk about love, grief, and sadness, because when we start to feel the fragility of life, to see and understand the ephemerality and absurdity of this life, we lose a little part of ourselves and what we taught about this world. Everything changes. It is hard to find motivation and will to fight when we lose trust and when all dreams are stolen from us. We lose hope and the will to go on. By building a parallel dream world, we learn to understand life and how to accept the brutal reality.
When we feel the tragedy and amorality of this unjust world, we start to lose our will to live, and the fear throws us ruthless into deep sadness. If we won't shake off the sadness and fear we will be drowning more and more into a depression.
The fundament of love is belief.
It was only when I started to fill my heart and my life with true love, the fear and sadness started to fade away. All this material world that we hang on so tightly, is just dust. Already a lost ephemeral moment. But love is infinite. We are built out of love. And love is the only power that can transcend this world. We often forget that we are just for a short time here, while eternity awaits.
A lot of my work is created around the idea that our purpose in this life is to transform fear and grief into love. To learn to love and fill this world with love. But how is this possible, in a world that promotes only hate and violence?!
When you will find the endless rivers of love, you will find peace.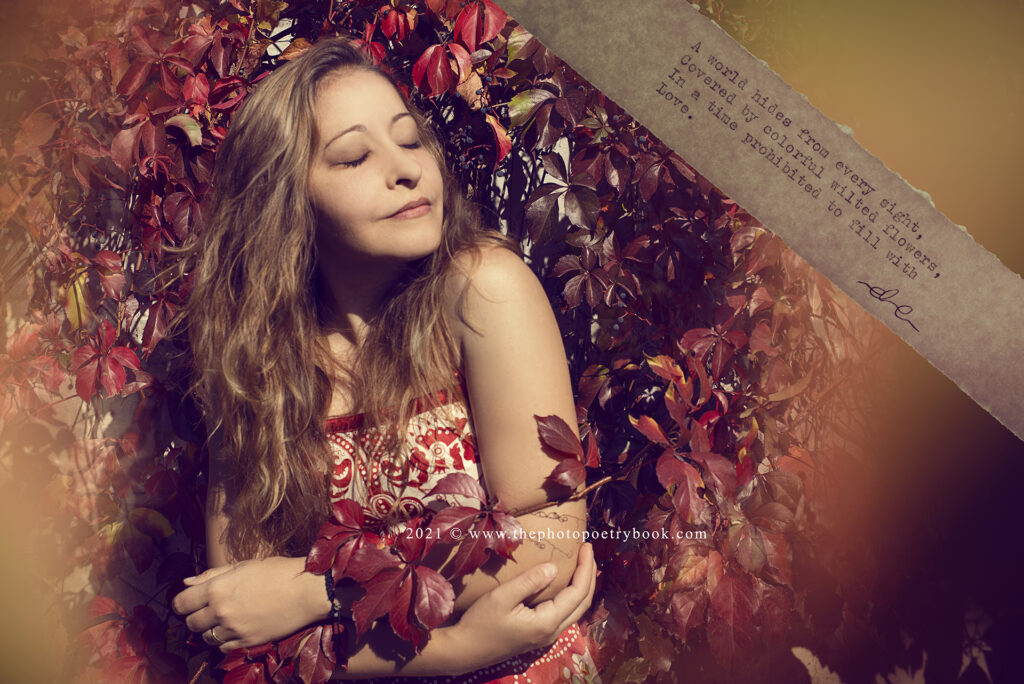 © DACIANA LIPAI | Love ~ D R E A M • A W A Y • Photopoems ~ Fine Art Photography Series
A world hides away from every sight,
Covered by colorful wilted flowers
In a time prohibited to fill with
Love.
---
Feel free to share this with your art lover friends or with anyone who can use a nice word. Leave a comment or drop me a line. I would love to hear from you
Interested in adding a fine art photopoem to your collection? You can check out more about my fine art prints here.