"What should I tell you?
A lie?
The truth?
Well, I'll tell you both and you'll draw conclusions for yourself.
What you want to believe and what not. What is the truth and what is the lie"
This is how my grandfather always started telling me about his war stories.
The truth is our responsibility.
I was raised in the communist regime, by my grandparents, in a small and peaceful home in Romania. We didn't have much, there was no internet, smartphones, or TV. It was a time of censorship, food restrains, poverty and fear. But calm and peaceful if you join and obey the regime.
I remember vividly, how I and my grandfather sat down in the afternoons, and he always had funny and amazing stories from the Russian front, where he fought in WWII. Sometimes, he would tell the same story, over and over again, with small changes, but I never got tired of hearing the stories. I always consider them just stories. Sometimes, I would believe a part of the story, sometimes I didn't want to believe the same story, but today, I know, it was the truth.
I was always intrigued by his introduction. I couldn't even imagine why one would lie about something so important, and even if he did, how the listener wouldn't recognize it was a lie, and stop listening to the lier. Today, I think his introduction to his life stories, is one of the greatest life lessons he could ever give me. When we listen to a story, it is our obligation to question the truth. It has to be in our blood to always search and stand for the truth. As you see, in the end, only the truth will prevail. But we have to be strong to accept the truth, even if it's hard to accept, and not what we want to hear.
Probably it was a lesson, that stories come together in truth and lie, and we have to distinguish and choose.
Is it your story? Is it your truth? Is it what you stand for? Is it your core value that you believe in? Or is it just an attention-drawing story that you want to take part in, but keeping distance?
Sometimes, my grandfather's stories were so incredible to believe. You know in war, there are always two sides to the story. Sometimes, we just choose the convenient truth. The one that we think will keep us safe.
We always have to think twice before we draw conclusions. A story sometimes can be very honest, can tell the truth or can be a lie, can be exaggerated or manipulated, or can tell only a part of the story, the one truth of the storyteller.
So, you see my dear readers, why, we are responsible for what we want to listen to and take as the absolute truth.
I never knew what was truly going on, we just had to follow orders.
My grandfather fought to defend his country, his people, with honor, for freedom and truth, following orders, with a strong belief that this is the truth, the right thing to do. So that the future of his country will be safe, prosperous, and peaceful.  He taught me about dignity and courage, about just causes, and the importance of the truth.
It is our responsibility to search and choose the truth. Would you give your life for your truth?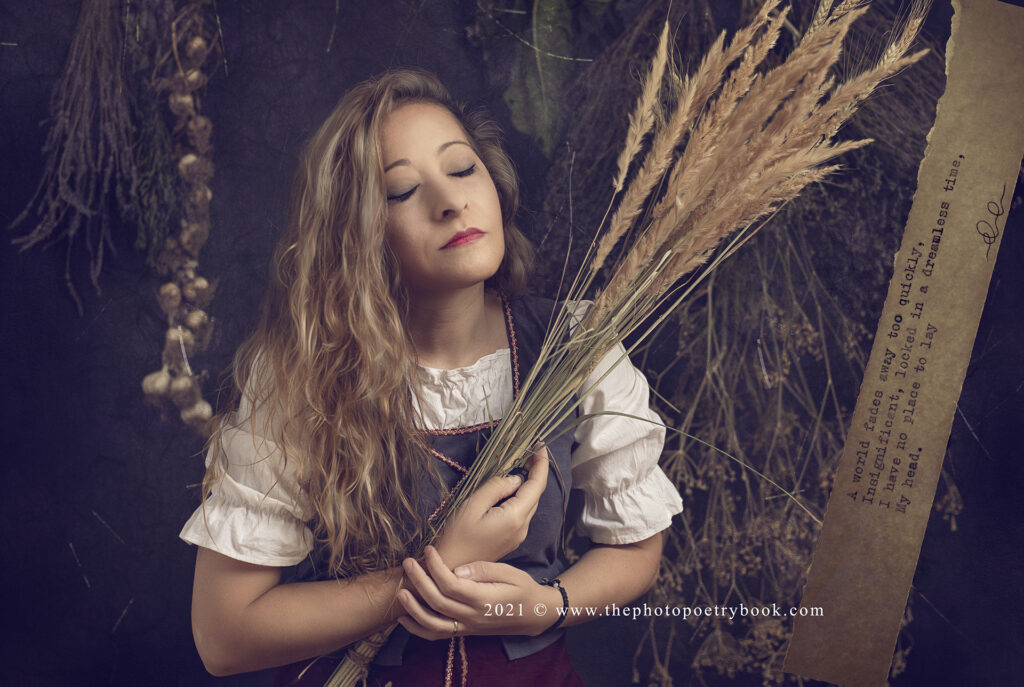 © DACIANA LIPAI | Peaceful ~ D R E A M • A W A Y • Photopoems ~ Fine Art Photography Series
A world fades away too quickly
Insignificant, locked in a dreamless time
I have no place to lay
My head.
---
Feel free to share this with your art lover friends or with anyone who can use a nice word. Leave a comment or drop me a line. I would love to hear from you
Interested in adding a fine art photopoem to your collection? You can check out more about my fine art prints here.